Like (and with) a bat out of hell, Harley Quinn has been iconic since her animated debut. She's swapped out her jester outfit for pigtails and a crop top, but consistently proves to be a fan-favorite. Despite complaints about Suicide Squad and Birds of Prey (and the Fantabulous Emancipation of One Harley Quinn) (or is it Harley Quinn: Birds of Prey?), there has been far-reaching praise for actress Margot Robbie's on-screen interpretation. She nailed Quinn's erratic-yet-charismatic obsessiveness, be that for the Clown Prince of Crime or a mouth-watering egg sandwich, while incorporating fierce independence and sympathetic humanity that makes her worth rooting for. Served up with some impressive fight choreography in scenes like the latter film's stylish police station raid — with Robbie performing many of her own stunts — and Harley Quinn is appetizing enough to stand beside the Justice League as a major player (and not just as an overhashed Halloween costume).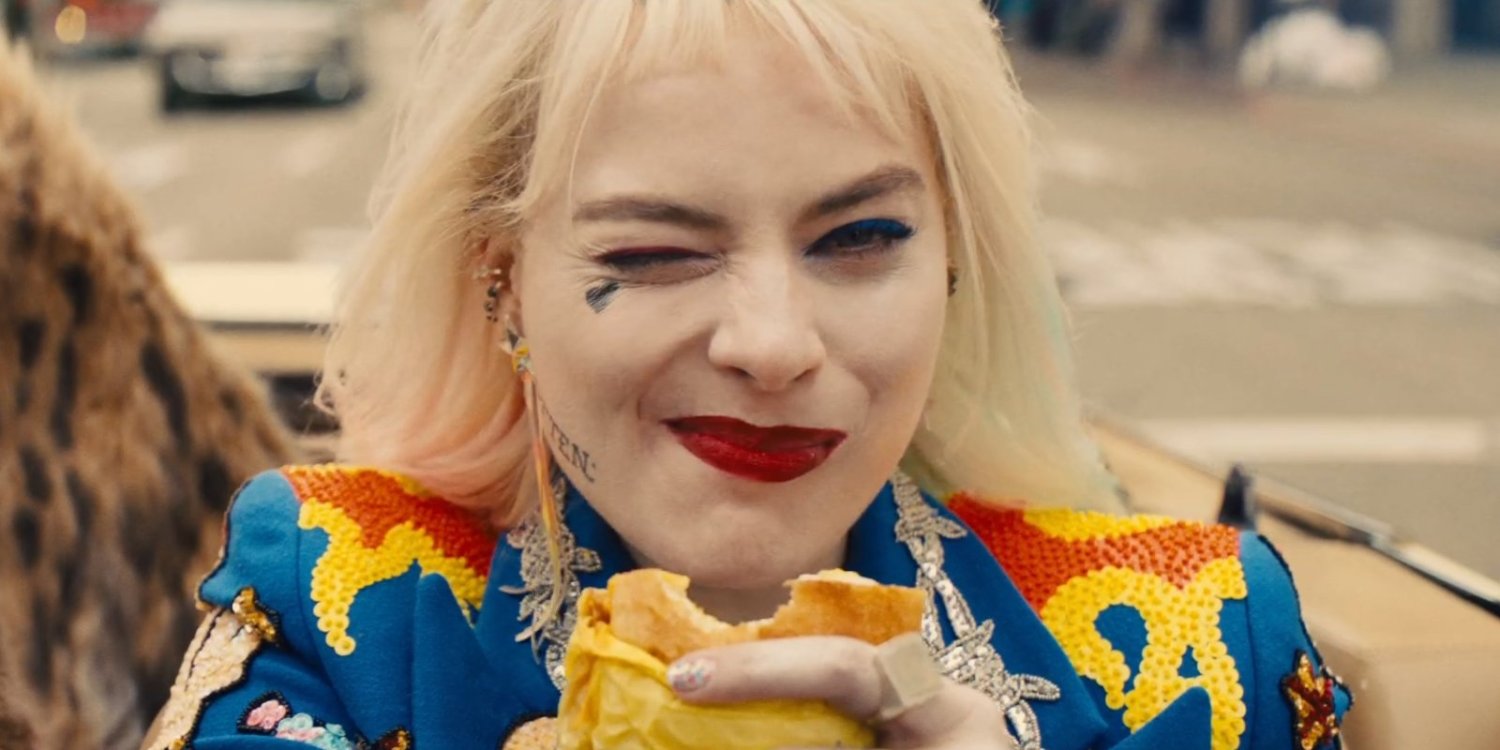 More broadly, it's safe to say DC's recent releases have been pretty hit-or-miss. Quinn and the characters themselves are iconic and universally loved, but the film and TV productions are still as divisive as an Omega Beam. For every hit like Joker, there's a Suicide Squad which, while having their moments, haven't stuck the superhero landing. While shows like Titans have garnered followings, they suffer from the same lukewarm reception surrounding shows like The Flash and runs like "Crisis on Infinite Earths".
Where DC has shown dominance is in animation, with films like Batman: Under the Red Hood, Batman: Gotham by Gaslight and Superman: Red Son receiving widespread acclaim. They stay faithful to their source material while taking risks — a balance seemingly harder to strike with every attempt. With the formidable shadow and high expectations ignited by Batman: The Animated Series in the '90s, the consistent quality has been surprising and commendable. The original Batman animated series brought a certain bar to meet while also thrusting a certain mallet-wielding, psycho psychologist into the spotlight.
Even with high expectations, one series has burst onto the scene by not only checking the boxes, but far exceeding them. It has solidified Harley's star status and is more satisfying than even the best breakfast sandwich. Harley Quinn's simple title reflects how it has boiled down the character to her essentials. The adult animated series just wrapped up its second season, leaving a ridiculous amount to be praised in its wake.
Much like her solo film, the series follows Harley as she explores newfound freedom after having broken things off with the Joker. More specifically, it focuses on her mission to assemble a crew and to be taken seriously as a supervillain. The clearest difference between the show and other DC properties is its flexibility, poking fun at the characters fans have grown to love while still treating them with respect through believable arcs and development. Brash quips blend perfectly with plain hysterical modifications of classic heroes and villains, including an English Scarecrow, a thespian Clayface and an emotionally dependent, alcoholic Commissioner Gordon.
Quinn, voiced by Kaley Cuoco, doesn't sport as strong a Brooklyn accent as Robbie, but overwhelmingly succeeds in capturing Harley's explosive energy. The voice takes getting used to like the show's brazen humor, yet feels just right only a few episodes in. Cuoco is especially praiseworthy for her voicework, navigating seamless conversations between Harley and herself (because she's crazy, y'know?) and is on the same level as the best interpretations of Quinn. Poison Ivy, voiced by Lake Bell, is also a standout, with Bell bringing a surprising amount of humanity to a character supposed to hate humanity as Harley's other — more reasonable — half. Ron Funches's King Shark, Tony Hale's Doctor Psycho, Jason Alexander's Sy Borgman, and Alan Tudyk's Clayface and Joker are easy contenders for the best versions of their characters ever put to the screen — and that's just the main crew. There are so many others worth mentioning, but stated simply: the voice cast is stacked.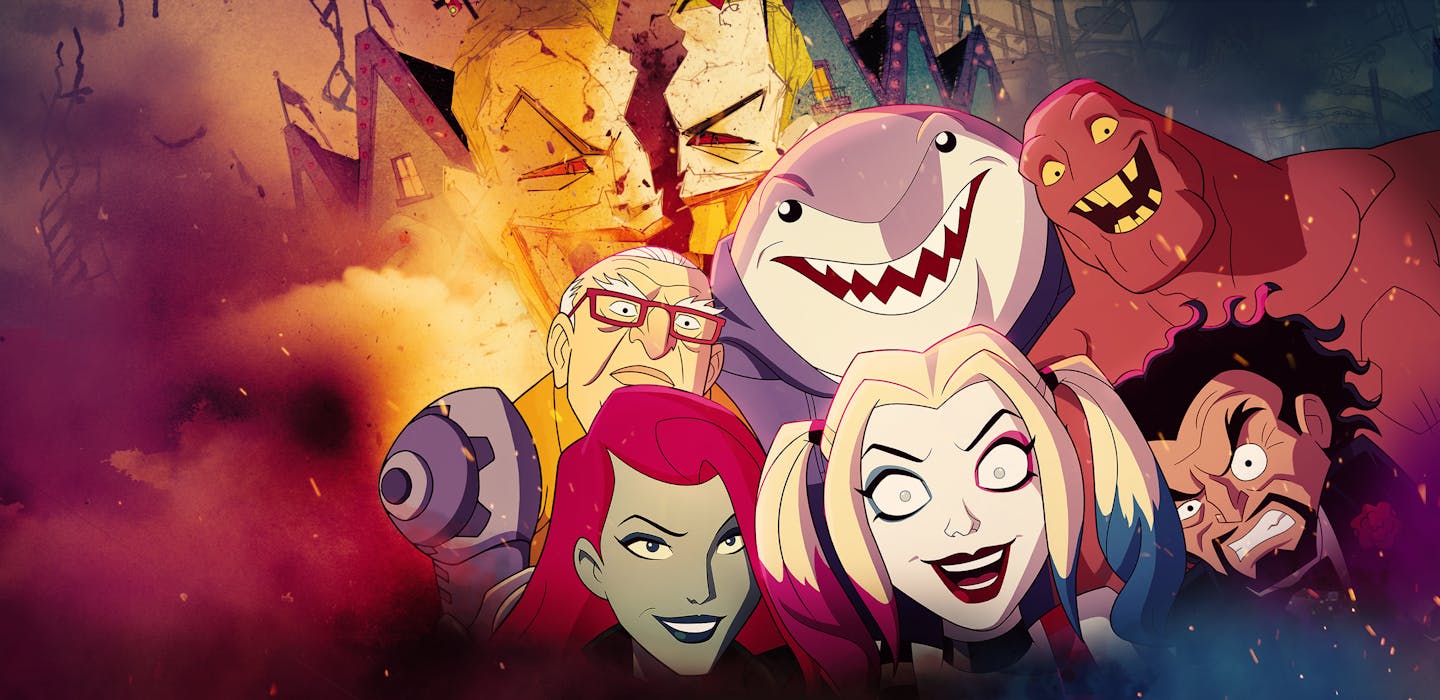 With its mad hijinks — bar mitzvah crashing and sorority girl impersonating come to mind — the show has to walk a fine line if it wants mature elements like a love triangle to be taken somewhat seriously. In Harley Quinn, every character change is earned, every obstacle feels like a real threat and it becomes clear early on that every character is at risk. Not only that, but more obscure characters are given the chance to shine. When a pitiful joke like Kite Man can not only be relatively respected and liked, but also one of the show's most emotionally complex characters, something is working.
Often visceral in its action but smooth enough to inspire a love for its style, the animation meets the level of quality expected from a DC animated series and is more than a suitable vehicle for showing off the show's other strengths. Many classic designs are updated, be that Ivy's new favorite jacket or some grander, comical physical developments regarding a certain character's killer calves. The same line of thinking is applied to the plot; showrunners Patrick Schumacker, Justin Halpern and Dean Lorey include many elements from classic comic runs. But, especially by the second season, these concepts are entirely their own and unique.

It wraps up with the grace of an ex-gymnast and a praiseworthy ending, leaving open the opportunity to continue Harley's story. A third season is yet to be confirmed — it's up to the fans now. Anyone seeking a fresh reminder of the versatility, comedy and sheer ingenuity brought to the table by DC's best, look no further than the Maid of Mischief. Watch Harley Quinn.