The author of "The Digital Adventures of Ava and Chip: Smart City" Beverly Clarke took time to talk to All Ages of Geek and "Galaxy-Boy Delivery" all about what inspires her and her books. On this Kidlit Creator Interviews feature we learn more about Beverly's characters and how fun tech can be for kids.
And if you'd like to help support the creators and All Ages of Geek be sure to click the image below to purchase the book from IndieBound!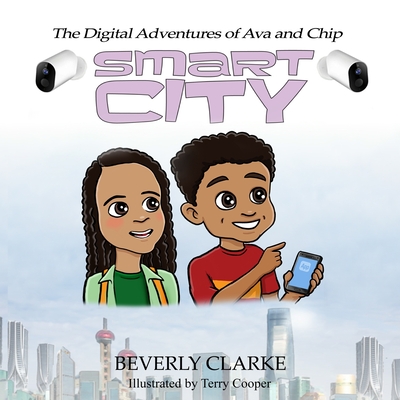 First off, let people know who you are and what you create!
Hi we are @AvaChipBooks. A children's book series with a Technology focus – entitled – The Digital Adventures of Ava and Chip.
Our characters are – Ava and Chip who are brother and sister, aged 7 and 8. Together they travel with their mum learning about technology and the world of possibilities available through technology.
Book 1 is called Smart City and Book 2 will be revealed very soon! Our author wrote our stories during the lockdowns in the pandemic.
What are some worlds you'd like to explore in fiction?
We like all things tech and our books are set against the backdrop of a Smart City.
What's your favorite tool to create with? Pencil? Digital? Typewriter? Computer?
Any!
How do you create characters?
The characters are based on real life people. In our books – there are also clues for the reader to find. Very soon we will start revealing the clues online.
What types of stories do you want more or personally?
Adventure and Tech stories.
What was your first picture book, comic, etc?
Incredible Hulk, TinTin, Nancy Drew and loads more!
Who inspired you as a kid?
Any stories where I could go to a "far away" land and have an adventure.
What did you want to be when you grew up?
An archaeologist or a dentist.
What makes you happy?
Life – exploring – climbing mountains!
Who is your favorite character from fiction?
Spiderman and many more! 🙂
List 3 of your favorite creators!
Good question – anyone who is bold enough to put their idea out there!
What does creating mean to you?
Creating means inspiring and being bold. Breaking new ground and showcasing ideas and inventions.
What is your favorite piece you've created?
Our books!
Advice you'd give new creators?
Just go for it and also start to build your social media following.
What do you think All Ages of Geek can do more for creators? What can we improve on?
Thanks for approaching us to share our book story. This is great, so showing a rounded view of tech and books is great.
Who would you like All Ages of Geek to feature next? Tag 3 of your friends, peers or favorite creators!
Anyone!
Where can people find your work online?
On our website and on Amazon.
And if you want to learn more about technology with your kids be sure to get techy with Skillshare and consider taking a class with 30% off when you join with All Ages of Geek's affiliate program.
Like this interview? Be sure to share and let us know who should be interviewed next!