Well all-in-all, it hasn't been too shabby of a Pride month this year, considering we've been lingering in uncertain post-pandemic life limbo, where places are caught between the transitional phase of "tentatively fully open" but still unable to fully encourage huge crowds. It's been a peaceful Pride, but nonetheless, a prideful one, as I'm sure we've all been celebrating in our own way. I, for one, have been having a grand ole time consuming a whole lot of queer media – check out my piece on LGBTQ+ manga you must read before the end of the month – but the ultimate topper of this year's Pride has to have been the-one-and-only Utada Hikaru coming out on live stream as non-binary.
Utada Hikaru is an iconic Japanese singer known for their plethora of emotional songs, some of which many of you will know as the chillingly beautiful tracks to the Kingdom Hearts Franchise (renowned game series collaboratively created by Square Enix and Disney).
Utada had previously hinted they weren't straight in 2016 with the release of their song "Tomodachi" on their sixth Japanese studio album, Fantôme. The song tells a story about a gay person falling for their straight best friend, a storyline someone then criticized on Twitter, calling it a stereotypical depiction of gay people. Utada had responded with an insinuative message, but never elaborated any further…
…at least, they'd never elaborated any further until the great year of 2021 that is!
A little over a week ago, on June 18th, Utada shared an Instagram post in which they explained the frustrations they had toward gendered prefixes and how it referring to themselves with these titles felt like a limitation of their gender expression: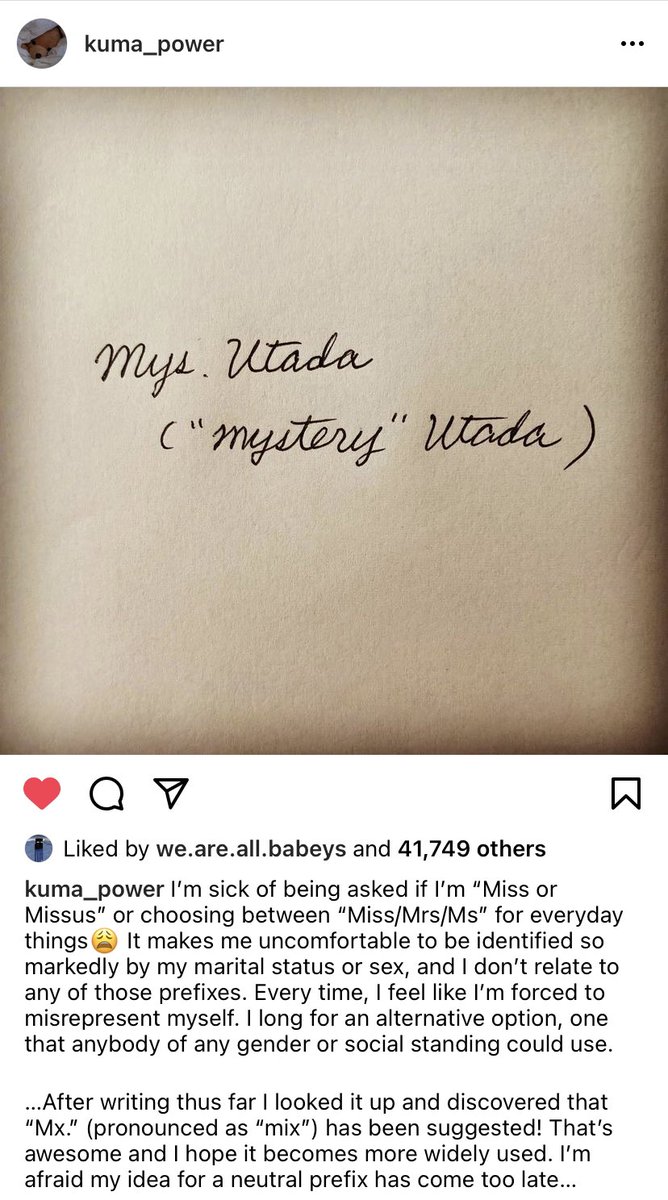 Utada took it a step further in their live stream on Friday, June 25th, with the illustrious Hideaki Anno (creator of FLCL and Evangelion), with whom they worked together on the new theme song for Evangelion: 3.0 +1.0 Thrice Upon A Time (the final installment of the Rebuild of Evangelion film series), titled "One Last Kiss".
Before Utada brought Anno onto the stream, they announced to their viewers that they identify as non-binary:
Needless to say, we're all beyond overjoyed to welcome such an icon into our Queer-dom! Let's all cheer them on as they embrace their truth. Long Live King-Queen Utada!!
Utada and Evangelion's "One Last Kiss" is set for an "overseas LP release" sometime this summer. In the meantime, fans can enjoy listening to their new song "PINK BLOOD" as the opening title sequence of 2021 hit spring's anime To Your Eternity currently still airing. [via ANN]
---
Have a tip for us? Want to discuss a possible story? Need coverage? Please send an email to [email protected]
T. Wu is a contributing writer at All Ages of Geek. You can follow T. on Instagram @kata_the_clown.