The end of summer is sadly almost upon us, but that doesn't that there isn't good anime to look forward to! The arrival of fall doesn't just mean the advent of cooler temperatures, Halloween, and Thanksgiving. There are several anime series that are scheduled to premiere this fall, and if you're like me, then there is at least one title that you are sure to look forward to. In this article, I will be going over the top 10 anime series that will be dropping in this fall that everyone is looking forward to? Let's get started, shall we?
Side Note: All of these anime are scheduled to come out in October. Curious!
Demon Slayer Season 2
Fresh off the success of the Mugen Train movie, the smash hit TV anime Demon Slayer: Kimetsu no Yaiba is going full steam ahead with a new season coming this fall. The second season will see Tanjiro and company head to Yoshiwara, a town known for its bright lights and dark desires and that is a fertile breeding ground for demons. But they are not alone, for the Sound Hashira Tengen Uzui will accompany them as the Demon Slayer journey into places unknown with new dangers (expect to see at least one Upper Moon along the way). Assuming that nothing else changes, expect it to drop sometime in October.
2. Komi-San Can't Communicate
We've all had trouble communicating at some point or another, but I'm willing to bet none of our problems are as bad as Komi Shouko's. As the title suggests, Komi (Koga Aoi, aka Kaguya from Kaguyasama: Love Is War) has trouble socializing with her classmates, which leads to them thinking she's arrogant. However, Hitoshi Tadano (Kajiware Gakuto, aka Shinra Kusakabe from Fire Force), Komi's very average but kind classmate, sees through the rumors about Komi and decides to help her come out of her shell and make some friends. It is a heartwarming tale that I am sure that you do not want to miss.
3. World's End Harem
In the year 2040, Reito Mizuhara is suffering from an unknown disease and has to be put into cryostasis to receive medical treatment. When he wakes up however, he learns that the world has been hit with a mysterious virus that, for some inexplicable reason, has killed off all the males on the planet, save for the one million or so survivors that were put in stasis before they could get infected. He then learns that he is one of five Japanese men who have somehow developed immunity to the virus and is now compelled to take part in a reproduction program to ensure humanity's survival, seeing how he has become the planet's most precious resource. The story will see him investigate the secrets surrounding the virus and his mission to repopulate the world while also searching for his one true love, Elisa, who disappeared three years ago without a trace. Will Reito be able to resist the temptation and find his true love? Find out when the anime comes this fall!
4. Date a Live Season 4
Season 4 of the popular anime Date A Live is officially confirmed for an October 2021 release under the name Date A Live IV. Although there's no information as to what the plot of Season 4 will be, given that the previous seasons are based off the light novels — Season 3 animated up to Volume 13 — we can assume that, at the very least, the next five volumes are going to be adapted. While it is too early to ascertain who the cast will be, it is safe to expect that the voice actors — both Japanese and English — for the main characters, the Spirits, the members of the Spirit-resolving organization Ratatoskr, and many others of the diverse cast will reprise their roles.`
5. 86 Season 2
After the anime debut in early 2021, it will be returning for its second season just at the year ends. The second season will come in early 2021 and pick up where the first left off. 86 is the story of a 16-year-old named Lena (full name Vladilena Milizé), who's a major in the Republic of San Magnolia's army and a handler for the 'Processors' of the Republic's 'unmanned drones' known as Juggernauts. The Juggernauts are piloted by humans, all of whom are "86"—the designation given to the Colorata minority of San Magnolia. Originally having equal rights, they were soon persecuted and scapegoated by the dominant Alba race and the Alba-supremacist Republic government to the point where Colorata were both officially designated and popularly considered subhuman. With a thrilling plot and a lot of twists to keep anyone guessing, the second season will be coming back soon, so mecha anime fans are sure to be in for a wild ride.
6. Jobless Reincarnation, 2nd Cour
In the past several years, Isekai has become an increasingly popular genre in the realm of anime. Shows like "Konosuba," "Re:Zero," and "Sword Art Online" have enchanted anime fans and given them a taste for stories about starting a new life in an idyllic fantasy world. As influential as these anime are, few are regarded as highly as "Mushoku Tensei: Jobless Reincarnation." The story is as follows: When a 34-year-old underachiever is hit by a bus, he is isekai'd away to another world where he is reborn as an infant and has to begin an incredible experience with his newfound bravery, companions, and talents. The series is essentially a series of story arcs where Rudy (the main protagonist) has to fight to protect his new world from all those who would do it harm. Part one of the season (a cour, if you will) was finished all the way back in March of this year, and part two is scheduled to premiere later this year (most likely in October).
7. Mieruko-chan
A new horror-comedy anime coming out this fall. Miko Yotsuya is an ordinary high school student who has the unfortunate ability to see horrifying ghosts and spirits that haunt her and the people around her. Despite this, Miko does her best to ignore the existence of ghosts and tries to live out a normal high school life. The premise of this series sounds charming, relatable and yet also somewhat frightening, which could earn it a spot on the list of most anticipated upcoming titles for anime fans. It doesn't seem like an English cast has been attached, but both official trailers have been released with English subtitles, so clearly, Kadokawa is trying to promote the show to international audiences as soon as they can. Hopefully this means that there will be an English dub available soon.
8. Blue Period
A more low-key and not as known example than some of the examples here. Second-year high school student Yatora Yaguchi is bored with his normal life and secretly envies those who do things differently until he discovers the joy of drawing one day. After seeing a painting made by a member of the Art Club, Yatora becomes fascinated with the colors used in it and becomes inspired to convey his language through painting instead of words. Soon he finds himself so invested in art that he decides that it is what he wants to do for a living. Unfortunately, though there are multiple obstacles in his way: his parents (who are hesitant over his unique choices), his more experienced peers, and the study of a subject much deeper than he initially expected. If you are interested in this anime, I suggest you keep your eyes peeled, seeing how it's not as well known as others on this list.
9. World Trigger, Season 3
World Trigger Season 3 – Official Announcement Teaser – YouTube
Another lesser known anime that is set to come back in the fall. In the fictional Mikado City, a "gate" to a different world suddenly opens one day. Monsters called "Neighbors" start appearing from the gate, and the humans are overwhelmed at first when their weapons are found to be useless against Neighbors, until a mysterious organization appears that is able to repel the Neighbors' attacks. The organization is called the National Defense Agency, or "Border", and has appropriated the Neighbor technology called "Triggers", which allow the user to channel an internal energy called Trion and use it as a weapon or for other purposes.Four years later, people in Mikado City have grown used to the occasional battles with the Neighbors, and have returned more or less to their everyday lives while Border has become popular. One day, a mysterious white-haired student (and later to be revealed Neighbor) named Yūma Kuga transfers to the local school and soon meets another student, Osamu Mikumo, secretly a C-class Border trainee. Since Kuga is completely oblivious about life in Mikado City, it becomes the task of Mikumo to guide him through it and prevent him from being discovered by Border. It has an interesting premise that, for a not-as-well-known series, may lure a few viewers in for those who are interested.
10. Visual Prison
Last but not least on this list is Visual Prison, which takes place in a world where many of Japan's top visual kei musicians are secretly vampires. Once a year, they all gather at a festival in Harajuku called the "Visual Prison," where they all perform songs that entrance the audience. The story is as follows: Ange Yuki—a boy who wrestles with deep-seated loneliness and can't fit in. With nobody to call family, he leaves his hometown. Longing to see an artist he admires perform, he heads for Harajuku, where he encounters a live battle between visual kei units ECLIPSE and LOS † EDEN. Overwhelmed by the energetic performance, he is suddenly struck by an intense pain, which ultimately kicks off the entire story.
Honorable Mentions:
Jojo's Bizarre Adventure: Stone Ocean
Fena: Pirate Princess
Yashahime: The Second Act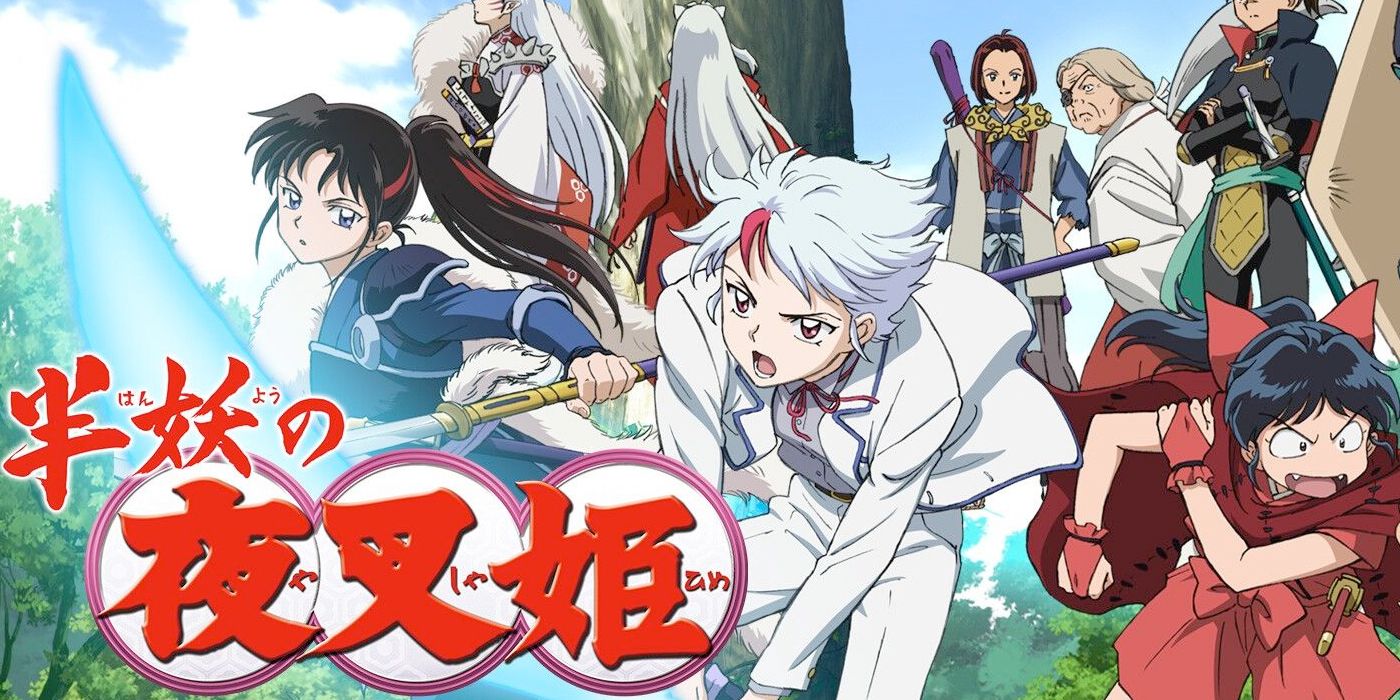 The World's Finest Assassin Gets Reincarnated in Another World as an Aristocrat
The Faraway Paladin
Platinum End
So tell me, what anime are you looking forward to watching when the leaves turn red and orange? Let me know in the comments below!