After years of being stuck in development hell, J.G. Quintel's adult animation series Close Enough has finally crawled its way into the light. It's Qunitel's first main project since his lead work on Regular Show, and while there's no sign of talking blue jays, raccoons, gumball machines or any other anthropomorphic oddballs, Close Enough takes the torch from its predecessor through its art style. It's excitingly experimental despite a more grounded focus, pushing its style and sitcom format to their fullest potential.
Quintel voices video game-designing millennial Josh who, along with his wife Emily and his daughter Candice, lives with divorced couple Alex and Bridgette in a cramped apartment in Southern California. Joined by Gabrielle Walsh, Jessica DiCicco, Jason Mantzoukas and Kimiko Glenn, Quintel and the voice crew spice up such riveting aspects of adult life as coupons and rent with ease. Their modern culture-driven banter cashes in on the entire cast's talented voice work as the family lives paycheck to paycheck, and they have no problem showing off their chemistry in under a quarter of an hour.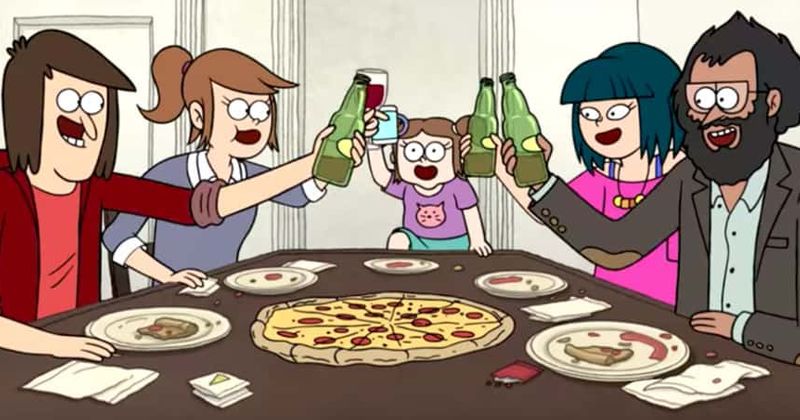 The first released episode, "100% No Stress Day," is packed to the brim and a blast to watch. The 11-minute runtime keeps the episode moving at a breakneck pace with a high-energy introduction as Emily becomes overwhelmed with the stresses of student loans and laundry, establishing the show's intention to grapple with more adult themes.
The grown-up gripes by no means detract from the absurd escapism Close Enough offers. When Josh offers to tackle Emily's to-do list to give her some time to relax, a simple outing jumps from a flashback sequence of a lost bet involving disturbingly buff stripper clowns to the characters' kidnapping by the equivalent of a supermarket ham mafia — all while Emily and Bridgette decide to hotbox a car in a mesmerizing montage of hallucinations, hot dogs and leapfrog until Emily's trip goes sour. That's without mentioning the giant, virtual Kevin Costner head.
For everything going on, the episode remains easy (enough) to follow, astoundingly managing to weave these points into a coherent climax — it needs to be seen for itself.
Between the hamburglars and bad trips, the show's heart stands out. The characters are blatantly flawed but easily likable and relatable. Instead of pushing for escapism by disregarding the stresses of adult life, Close Enough roots itself in and embraces them. It's not focused on teaching its audience a lesson, either. It takes viewers along for the ride, and that's more than enough. The misfit family's life is by no means perfect — but there's something comforting in them enjoying themselves in the overpriced, man-bun and hot yoga-riddled playground of SoCal regardless.

At this rate, Close Enough will have no problem becoming beloved, especially since Regular Show's original fans are likely starting to experience adulthood's stresses themselves. The first episode is available for purchase on the online Annecy Film Festival and the full season begins streaming July 9th on HBO Max.