Introduced in 2001 by Nintendo, Animal Crossing was a fascinating social simulation game. All ages can play and go about creating clothing, design a house or fishing in the ocean. This is only a small part of the options offered. When released in March of 2020, Animal Crossing: New Horizons went gangbusters. Possibly due to the start of the Pandemic where there were lockdown's, one option was to play a game that would allow socialization. Of course, no Animal Crossing game can be successful if it didn't have new villagers, islands to discover, and musical guests like K.K. Slider. In addition, there are so many tips for Animal Crossing. A few include how to grow rare flowers, how to use the Nookphone, and obtaining golden tools.
One tip to boost the landscape in Animal Crossing is to grow flowers. The standard flowers an island starts with are different than the next island, but to make unique and rare flowers it will take finesse. It is called cross-breeding, plant two different colors of the same type diagonally from each other.  As in, a red rose and a white rose will make a pink rose. Rain helps water the flowers, of course, but watering them from a watering can boost them to grow even faster. A key reason to crossbreed is that Island evaluations can earn more stars when there are diverse flower collections.
Via[EuroGamer]
The Nookphone is a feature in Animal Crossing with a few helpful options. Push the ZL on your remote or hand-held Switch, and the Nookphone will open. This is very similar in layout to a personal phone. There is a camera, Critterpedia (this has every insect, fish, or sea creature you have caught), a map of your island, and DIY recipes. One tip to individualize a villager is to use clothing, rugs, or art that has been picked from internet searches. It will take a few steps to get there. If dressing a villager in Pokémon shirts, or an Anime rug outside the house is the look you are going for, be sure to check out items from the internet search.  First, download the Nintendo Switch Online app on either an Android or iPhone. Once this is linked to the game go talk to Tom Nook on the Home screen. Tom will make sure that the app is linked appropriately to the game by answering a few questions. In the Nookphone there is an app called custom design. This is used to choose any image that would fit your motif for outfits or art. By accessing this tool it creates a unique look to any island.
Animal Crossing users do numerous real-time activities to improve their island.  One way to pass countless hours is to Fish in a small pond or catch insects to donate to the museum. Unfortunately, the majority of tools that make money or will be used to work on a hobby are going to break over time. This will cost a villager resources to be able to obtain them. One tip is golden tools, which include an ax, shovel, watering can, fishing pole, slingshot, and a net. Obtaining each tool is not an easy task.  After breaking 100 normal or flimsy axes a golden ax is available to make in a DIY recipe and to get a golden slingshot pop 300 flying balloons prior to a recipe. The fishing pole and net require one of every fish or insect on the island, whichever is appropriate, to be caught.  The shovel is the hardest golden tool to acquire. A downed seagull, Captain Gulliver, will wash ashore. The objective is to talk to him 30 times with 10 separate times helping him to get off the island.  After those steps are taken a DIY recipe will be sent.  Golden tools are an arduous task to achieve even a few of them, but once built they are meant to be used for quite some time.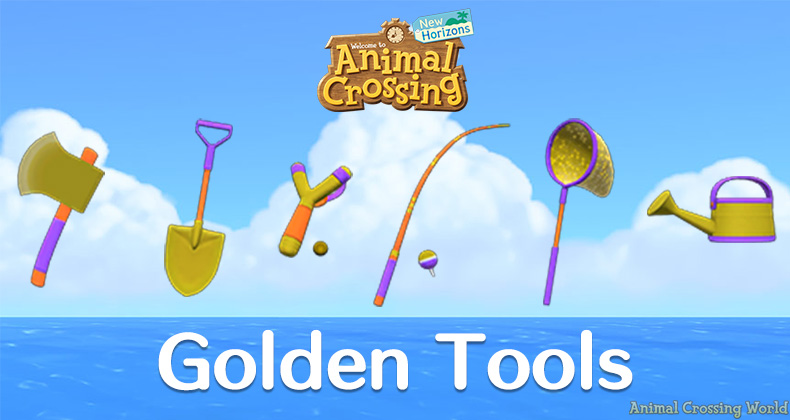 Via[Animal Crossing World]
Whether you need additional tips on how to obtain stars to boost an island's standing or how to make money for new items, there are many features Animal Crossing: New Horizons offers. The outcome of each discovery is completely up to how one approaches the game. For example, a villager can travel to other islands, fill up a museum with beautiful butterflies, or just sit and listen to music when the fireflies are out.  Each season and holiday is highlighted and occasionally there are small touches and details that pop up. Animal Crossing will offer additional options the longer it is played which creates a smart and interactive way to play any simulation game.
---
  Have a tip for us? Want to discuss a possible story? Need coverage? Please send an email to Allagesofhr@gmail.com
Katie Bolin is a writing intern at All Ages of Geek. You can follow her on Twitter @KatieMarie5Fly.